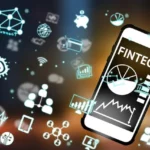 5 Influential FinTech Companies in the UK Financial Services Sector
By Leandra Monteiro
August 30, 2022
Banking as a service
Card payments
Digital transformation
Financial Technology or FinTech is not a financial services subsector in the traditional sense of describing a particular activity or business model within the broader financial services market. Rather, it is a label applied to companies operating in a wide range of financial services sectors, which use new technologies to provide services in a modern way.
While technological innovation has always been at the forefront of the financial services industry, FinTech is unique in how a range of emerging and new technologies are being harnessed to change the way financial services are delivered across different types of products and customer segments. .
Innovate Finance, the industry body representing UK FinTech, reported that the UK FinTech sector saw record investment in the first six months of 2021. The UK FinTech sector raised $5.7 billion in the first half of 2021, exceeding the total investment obtained in 2020 ($4.3 billion). ) by 34% and beating the record year set in 2019 ($4.6 billion) by 26%.
According to Beauhurst, FinTech is the strongest start-up sector in the UK, with more than 1,400 high-growth FinTech companies currently active, 20 FinTech unicorns (around half of the UK's billion dollar start-ups dollars) and more venture capital investments than any other. other industry.
Here are the top 5 FinTech companies in the UK:
Revolut is developing the world's first truly global financial super app to help people get the most out of their money. In 2015, Revolut launched a money transfer and exchange service in the UK. Today, more than 20 million customers worldwide use dozens of innovative Revolut products to complete more than 250 million transactions per month.
Revolut recently raised $800 million in Series E funding to continue building the world's first super financial app. The company has also launched Stays, which makes it easy to book holidays directly from your Revolut app. It also launched On-Demand Pay to manage expenses when you need it by withdrawing salary earned earlier.
Thought Machine's mission is to create technology that can power banks around the world with the best software designs and practices of the modern era. In doing so, the company aims to properly and permanently rid the world's banks of the problems generated by poor technology running on legacy infrastructure.
Its core banking engine Vault Core was born in the spring of 2015. Since then, the company has grown to over 500 people in Europe, Asia, North America, Australasia and the Middle East. Temasek, Intesa Sanpaolo and Morgan Stanley invested in Thought Machine's $160 million Series D funding round, doubling the company's valuation to $2.7 billion.
Founded in 2015 and launched in 2017, London-based Tide is one of the UK's leading corporate finance platforms. Tide helps SMBs save time and money running their businesses by offering not only business accounts and related banking services, but also a complete set of highly usable administrative solutions.
Tide has 450,000 SME members in the UK (around 8% market share). Tide has been funded by Apax Digital, Anthemis, Augmentum, Creandum, Goodwater, Jigsaw, Latitude, LocalGlobe, Passion Capital, SpeedInvest, SBI Group, and Tencent, among others. It employs more than 1,000 professionals worldwide. Tide has chosen India as its top international market in 2020. With over 350 highly skilled employees in India.
TrueLayer is an open global banking platform that makes it easy for everyone to create better financial experiences. Businesses of all sizes can use TrueLayer to power their payments, access financial data and onboard customers in the UK, Europe and Australia. Founded in 2016, TrueLayer is trusted by millions of consumers and businesses around the world. The company's vision is to create a financial system that works for everyone.
Starling Bank is a fully licensed and regulated bank, designed to provide people with a fairer, smarter and more humane alternative to the banks of the past. In addition to current accounts, it provides B2B banking and payment services through its Banking-as-a-Service model based on the proprietary technology platform it uses to power its own bank. The Starling Marketplace offers customers integrated access to a selection of third-party financial services. Based in London, it has offices in Southampton, Cardiff and Dublin.
ALSO READ: Global Digital Banking Vendor & Landscape Report Q2 2022
Previous post
Provident Bank Selects Ravi Vakacherla as Executive Vice President, Chief Digital and Innovation Officer
Read more
next article
CapIntel partners with NEI Investments to use its FinTech solutions
Read more