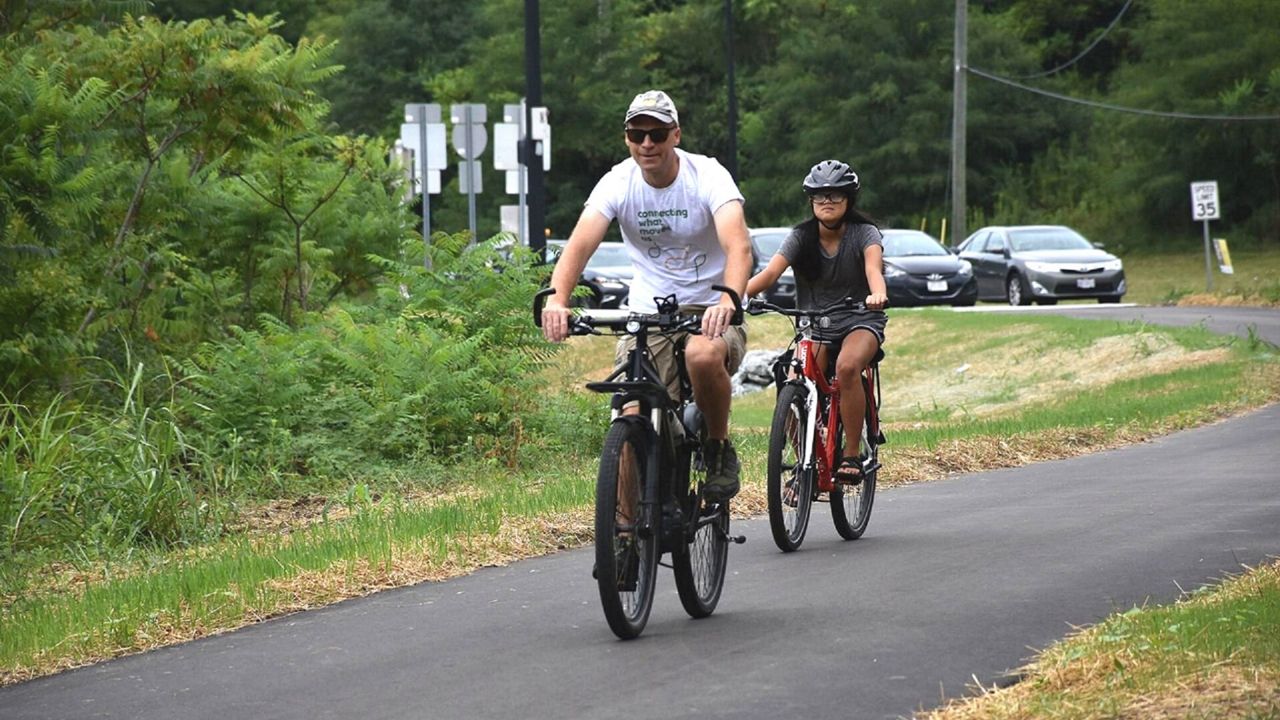 Bike path plan aims to 'connect' West Side communities
CINCINNATI — The City of Cincinnati plans to use $400,000 in federal stimulus funds to design and get community feedback on a multi-use track to improve bicycle and pedestrian connectivity in West Side neighborhoods.
---
What do you want to know
Cincinnati plans to use $400,000 in federal stimulus funds to design a path to better connect West Side communities to downtown
The trail would stretch from Rapid Run Park to Dunham Recreation Center and Lick Run Greenway
Councilman Jeff Cramerding called it an "unprecedented opportunity" for the western half of the city.
The design process will include community feedback and feedback
---
The announcement took place Friday morning at Rapid Run Park, one of the plan's focal points. The path would stretch from West Price Hill Park to Dunham Recreation Center and the Lick Run Greenway between Queen City and Westwood Avenues in South Fairmount.
As part of the design process, the city plans to work with residents to ensure the project is "community driven and based on the needs" of these neighborhoods.
The design and engagement process will take nine to 12 months. It is not yet clear what the engagement process will look like.
"Connecting these assets has been a clear priority for the community for years," said Mayor Aftab Pureval. "I am extremely excited for the Department of Transportation and Engineering to begin a process that brings this community vision to a finalized design. »
Council member and longtime West Side resident Jeff Cramerding called the plan an "unprecedented opportunity" for the area. The plan would provide walkers and cyclists with a more accessible and safer route between many of these neighborhoods and the city center.
"(This plan) would connect Westwood and Price Hill, Cincinnati's two largest neighborhoods, to the urban core via the Lick Run Greenway and replacement Western Hills Viaduct," he said.
The Western Hills Viaduct is a major link to and from downtown via Queen City Avenue. Proposed plans for its replacement call for a 14-foot-wide protected multi-use pathway for pedestrians and cyclists on the south side of the bridge and an 8-foot-wide sidewalk on the north side.
Construction of a new replacement viaduct will not begin until at least 2025. The expected completion date is 2030.
"I'm so thrilled that city leaders are making this a priority," said Wade Johnston, director of Tri-State Trails. "It is often so difficult to take the first step to fund transformative projects.
Johnston used the word "transformer" because currently the West Side has a "big gap" for cycling and walking infrastructure.
"Frankly right now it's hard to get from the West Side to downtown. But there are moving pieces like the Western Hills Viaduct and the Lick Run Greenway, and these projects will fundamentally change that," he said.
Friday's proposal will help achieve that end goal, a true West Side-downtown connector won't be complete. There are still several missing segments, Johnston said. But they are working on these parts.
A major part of that is the CROWN (Cincinnati Riding Or Walking Network) project, a nonprofit effort that aims to create a 34-mile urban loop around the city. Future efforts will also incorporate the Ohio River Trail West, the Mill Creek Greenway Trail, and the Canal Bikeway.
"This is the first step in what will likely be a very long game to achieve the full vision that we want to accomplish, but it's a really critical first step in connecting the western part of our city to the trail system," said he declared.
Money for the project will come from funds from the first round of the city's American Rescue Plan Act last year. The initial use of that money was "deemed ineligible by federal guidelines," according to the city.
Since Pureval and the new city council took office in January, City Hall has announced plans to reallocate at least a few million dollars to other projects ranging from housing to pedestrian safety to this multi-purpose trail.
The $400,000 will go towards design and engagement only.
Potential construction costs and a timeline are "hard to say" at this point, according to a spokesperson for the mayor's office. The city plans to use the engagement and design processes to develop a budget scope for the project.