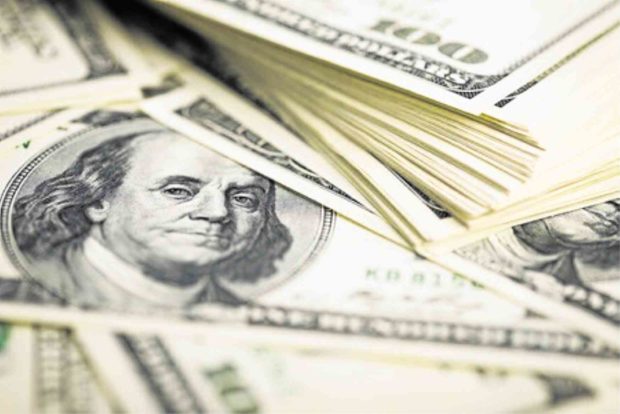 Pandemic nervousness is also melting demand for dollar loans from local businesses
MANILA, Philippines — Uncertainty over the magnitude of the negative impact of the COVID-19 pandemic on the economy has led not only to a decrease in peso-denominated loans taken by Philippine banks, but also to a decrease in dollar-denominated loans in the local market, according to the latest central bank data.
In a statement, the governor of Bangko Sentral ng Pilipinas (BSP), Benjamin Diokno, said that at the end of December 2020, the outstanding loans granted by the foreign currency deposit units of the banks amounted to 16.7 billion. $ 614 million or 3.6% from end-September 2020 level of $ 17.3 billion as principal repayments exceeded disbursements.
Year-over-year, outstanding dollar loans were down $ 1.4 billion or 7.7% from the end-December 2019 level of $ 18 billion.
"The drop in [dollar denominated] the loans may have resulted from the tightening of credit standards as well as lower working capital requirements due to the economic downturn, "said the head of PASB.
At the end of December 2020, the maturity profile of banks' dollar loan portfolios remained predominantly medium and long-term, or more than one year, debt, which represented 80% of the total, slightly above the 79 level. % at the end of December 2019.
Of the 67 percent total of outstanding loans to residents, 40 percent went to power generation companies (17.9 percent); exporters of goods and services (14.2%); and utility companies (7.9 percent).
Gross disbursements in the fourth quarter of 2020 reached $ 13.9 billion and were 13.9% higher than the third quarter figure due to the increased financing needs of a subsidiary of a bank branch foreign.
Likewise, loan repayments were 12.4 percent higher, resulting in overall net repayments.
Currency unit deposits at banks stood at $ 45.1 billion at the end of December 2020, down $ 890 million or 1.9% from the end-September 2020 level of $ 46 billion.
Of that amount, 97.5 percent continued to be owned by residents, essentially providing an additional buffer to the country's gross international reserves.
Year-over-year, dollar deposits by banks grew by $ 4 billion, or 9.7%, from the level of $ 41.1 billion at the end of December 2019.
The evolution of banks' dollar lending mirrored that of their peso-denominated lending operations, which saw a decline for the third consecutive month in guaranteed loans from February 2021.
According to the BSP, outstanding loans from universal and commercial banks, net of short-term deposits with the regulator, fell 2.7% year-on-year in February after falling 2.5% in January.
BST
Read more
Subscribe to INQUIRER PLUS to access The Philippine Daily Inquirer and over 70 titles, share up to 5 gadgets, listen to the news, download from 4 a.m. and share articles on social media. Call 896 6000.
For comments, complaints or inquiries, contact us.