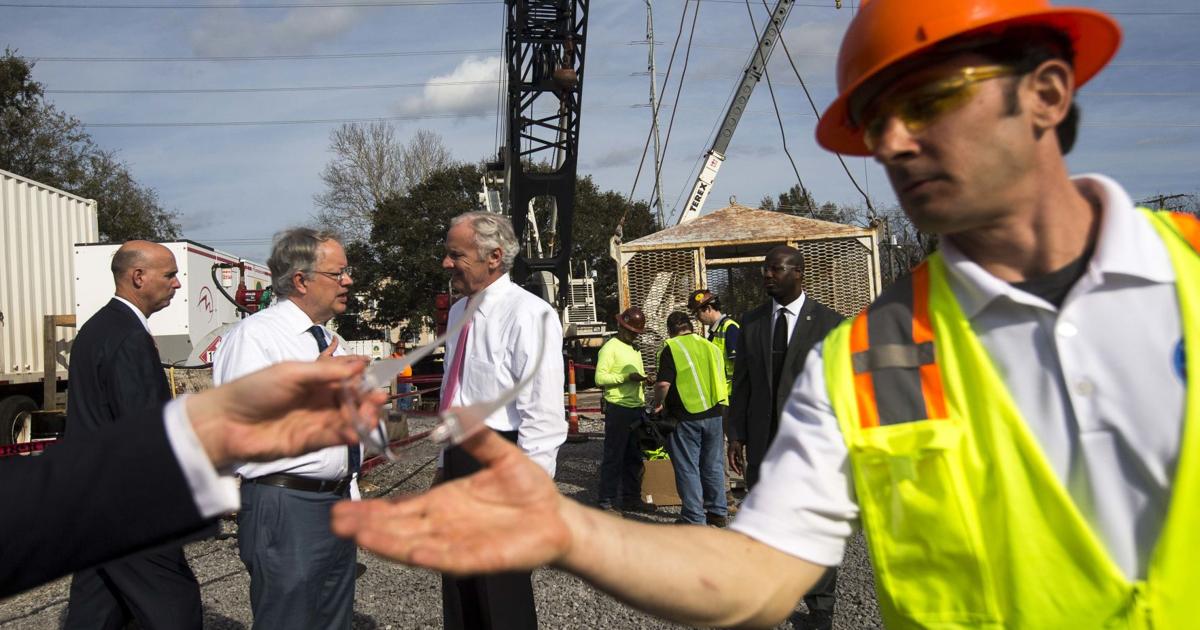 Tecklenburg: After more than a decade, Spring-Fishburne is a project we can be proud of | Comment
At the end of the last century, a well-known newspaper brightened up its typically ho-hum television programs with this soon-to-be famous synopsis of a classic American film: "Transported into a surreal landscape, a young girl kills the first person she meets then teams up with three strangers to kill again.
The film? "The Wizard of Oz."
Last week, I found myself thinking about this story for the first time in years, reading the Post and Courier's "Tunnel of Trouble" report on the city's Spring-Fishburne drainage improvement project. Because, as always in life, perspective is everything.
With that in mind, I'd like to tell the story of Spring-Fishburne from the perspective of all the city employees, engineers, tunnelers, craftsmen and others who overcame almost insurmountable odds time and time again to bring this project to life. extraordinary flood control nearing completion for our fellow citizens.
To briefly set the scene: it was 2009, the first year of the Obama administration, and the Great Recession was at its height. Stock markets around the world had crashed. The big banks were faltering. Unemployment hovered around 10%. And Congress had just passed a stimulus bill to get millions of Americans back to work building large-scale infrastructure projects across the country.
In response, Charleston officials submitted the largest grant application in city history – a $146 million request for a massive tunnel and pump system capable of removing more than 1 million gallons of water. water every three minutes from the Spring-Fishburne drainage basin, prone to flooding from the peninsula. And because the request was for stimulus money, the city offered to build the entire system in two short years, creating thousands of new jobs.
Now, this is where this story would have ended in most cities, as the federal government decided to allocate only $10 million to the project, leaving it 93% unfunded. But because this is Charleston — a city with a long and distinguished history of what some would call stubbornness and others tenacity — then-mayor Joe Riley and the city council invested that $10 million in what they called "phase one" of the project, and then started working behind the scenes to find ways to fund the rest.
Those efforts paid off in February 2012, when the State Infrastructure Bank of South Carolina agreed to provide $88 million over eight years — a major win, no doubt, though it did require the city to stagger the rest of the project for a good part of the decade. , as infrastructure bank funds became available. And with that, the largest and most complex engineering and infrastructure project in the city's history was truly operational.
Calling the decade since an "adventure" wouldn't begin to capture it. In fact, you could almost say it has been a life lesson in the saying "Man plans, God laughs". Entrepreneur problems? Check. Labor shortages? Yeah. Multiple historic floods? Sure. The first global pandemic in over a century? Naturally. And all of this on top of the normal challenges you would expect when building one of the most advanced deep tunnel drainage systems in the world.
But through it all, everyone involved remained focused on the prize: delivering real flood relief to thousands of citizens, businesses, churches, hospitals and nonprofits across the entire Spring-Fishburne watershed.
When construction problems were identified, the staff mobilized and found solutions. When acts of God stopped the work, project managers moved quickly to get it started again. And when rising inflation created a need for additional funding in later phases, the city was able to secure an additional $21.5 million State Infrastructure Bank grant to complete the work.
Thanks to these efforts and more by thousands of people since 2009, the Spring-Fishburne Project is now expected to drain millions of gallons of water from the streets of Charleston by the end of the year – with even more relief on the way. flooding when the pumping station comes online in 2024.
Could we see more challenges by then? Sure. But if we do, I know they will be greeted with the same resolve as those of the past, because Charleston is our home — and protecting it from rising waters and inclement weather is a top priority for everyone in our city. .
Which doesn't make sense. After all, whether you see young Dorothy Gale as a wild-eyed serial killer from Kansas or a lost little girl in Oz, I think we can all agree that she was right about one thing.
There really is no place like home.
John Tecklenburg is the mayor of Charleston.