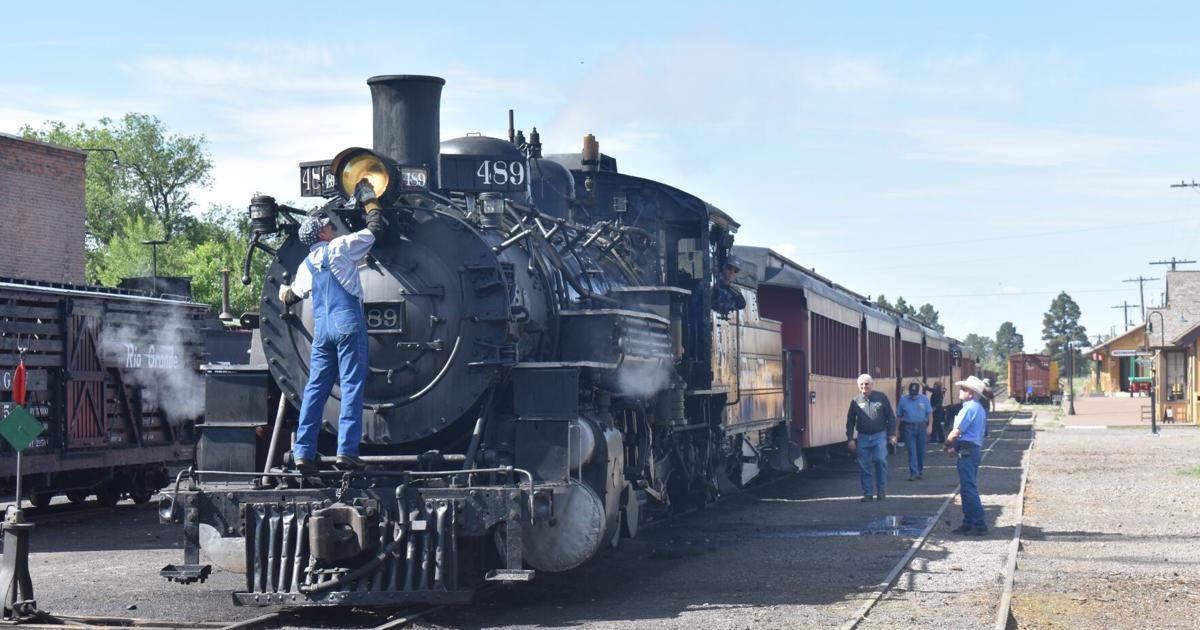 The first train of the season leaves Chama |
With a puff of hissing steam and the unmistakable whistle, the first train of the year rolled out of Chama depot at 10am this morning, marking the start of another season for the Cumbres & Toltec Scenic Railroad.
The 1880s steam locomotive, number 489, carried 159 passengers to Antonito, Colorado.
Until October 23, daily train trips between Chama and Antonito are expected to attract passengers from all over the country. Local Chama business owners who depend on railroad tourism are hoping that ridership will recover this season after two years of business curtailed by the COVID-19 pandemic.
Although originally scheduled for June 11, the start of this year's season has been pushed back to July 1 due to the extreme fire danger in the forests that make up the scenic railway landscape.
The historic railway's opening day usually includes a ceremony and live music, said railway guide Anna Gibbs, but the tradition was omitted this year due to the recent death of the longtime host of the event, Amarante Casias.
"He was the soul of opening day," Gibbs said. "It's our berm for him, to honor his legacy.
Gibbs said the railroad would instead hold a ceremony for the renovation of Osier station, the halfway stop for train travel. The interior of the building was damaged by a fire last September and it could be ready to accommodate more passengers by the fall.
Cheryl Odom, from Chama, donned a conductor's hat and made her way to the train yard this morning to see the first train of the season, as she and her husband Les have done almost every year since 1990.
"I'm crazy about trains," Cheryl said, adding that her grandfather was an engineer at the Pennsylvania Railroad.
Les, a northern New Mexico native and also a train enthusiast, grew up with the iconic Cumbres & Toltec Railroad looming for the people of Chama.
Scott Gibbs, president of the Cumbres & Toltec Scenic Railroad, explained that a notable feature of the 1880 railroad is the narrow gauge tracks in which the rails were spaced just three feet apart to save money on construction. Narrow-gauge railroads, he said, allow for tighter turns and steeper grades throughout the train's journey through the Rockies.
Gibbs is one of four members of the intergovernmental commission that oversees the railroad. Former Chama mayor Billy Elbrock is also a commissioner, with the other two hailing from Colorado.
Gibbs said the state of New Mexico has allocated $3 million to the railroad from federal stimulus funds, which will be available this fiscal year.
"It will help a lot with track work and maintenance of locomotives and passenger cars," Gibbs said, adding that specialized work on this type of historic asset is difficult and expensive.